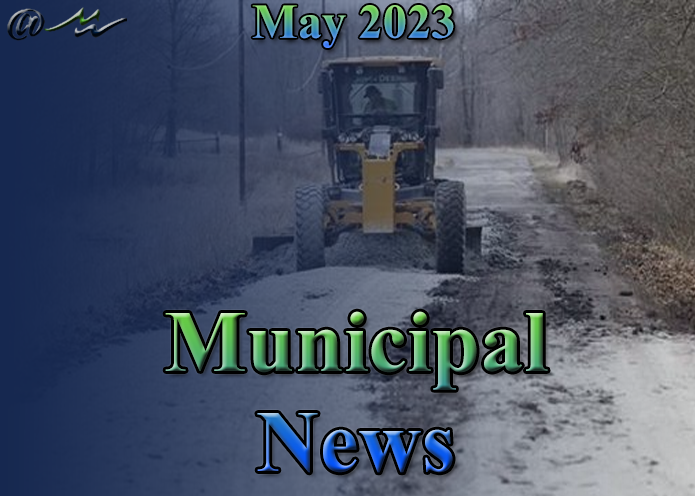 Municipal News - May 2023
May 2, 2023
Public Notice
Status report on our roads
If you are unaware, the spring thaw has affected everyone, including other communities, not just ours. All Municipalities are facing the same issue. When the frost has thawed from the roads, the ground shifts causing heaving. As the frost continues to thaw, it causes boils to sprout up from the ground. This process happens more frequently on roads with a clay base.
The Public Works crews have been working long hours trying to keep up with this spring's thaw. This year was more severe than other years due to the thawing process happening very fast and it caused worse than normal road conditions. We had three roads that were completely flooded over, having the residents locked in their homes, unable to leave. I was personally in contact with the residents who were affected, just like I would in any other emergency. The crews worked through the weekends trying as best as they could to keep ahead of the road issues, including countless sinkholes.
I ask for patience and understanding as we try to keep up with all the road issues. In addition, due to the rain, the graders can't be operated as it would create very soupy road conditions and make the roads worse due to being overly saturated with water.
As the roads dry up, the crews will continue working on keeping the roads safe and passable for residents and visitors. Please drive safely and per the road conditions to avoid vehicle damage and/or accidents.
If you need more information, please feel free to contact the office via email info@markstay-warren.ca or by phone at 705-853-4536 ext. 200. If you choose to call and do not leave a name and contact number, we have no way to respond to your concerns.
Please remember, verbal abuse will not be tolerated.
Ken Elliott
Director of Operations
Markstay-Warren
Treasurer's Message
Water Bill 2023
During the month of April, the measuring of the water meters was done. Please pay attention to your mail at the beginning of May, as you will be receiving your 2023 water bill. The due date to pay your water bill is Wednesday, May 31st.
Building Inspector Information
If you would like to purchase building permits, or have any questions about your property, you can contact our Building Inspector, Paul Holland. You can contact him by email at cbo@markstay-warren.ca, by phone at 705-853-4536 ext. 209, or by visiting the Municipal Office on Monday, Tuesdays, or Wednesdays from 8:30am to 4:00pm.
Fire Chief Whynott's Message
If you would like to become a volunteer firefighter, or have questions for our current firefighters, please contact Fire Chief Mark Whynott at 705-853-4536 ext. 210 or mwhynott@markstay-warren.ca.
If you would like to burn this year, you will need to purchase a Open Air Burn Permit. You can purchase one by coming to the office at 21 Main St, Markstay.
Burning Permit (Yearly) - $100.00 Burning Permit (10 days) - $25.00 Incinerator Permit (Yearly) - $100.00 (Requires an inspection)
Regular Council Meeting
The regular Council Meeting will be on Monday, May 15th, 2023, 7:00 pm, at the Municipal Council Chambers in Markstay. You are always welcome to come out and join us. These meetings are open to the public.
Did you know?
The Landfill has two separate hours of operation, one for winter, and one for summer. As of April 15th, we are under the summer hours, which is Mondays, Wednesdays, and Saturdays from 9:00am to 5:00pm. When October comes around, it'll swap back to the winter hours. Keep an eye on page 4 of the newsletter, under the left side panel with Special Locations, as it will indicate when we are changing to the winter hours for the landfill.
---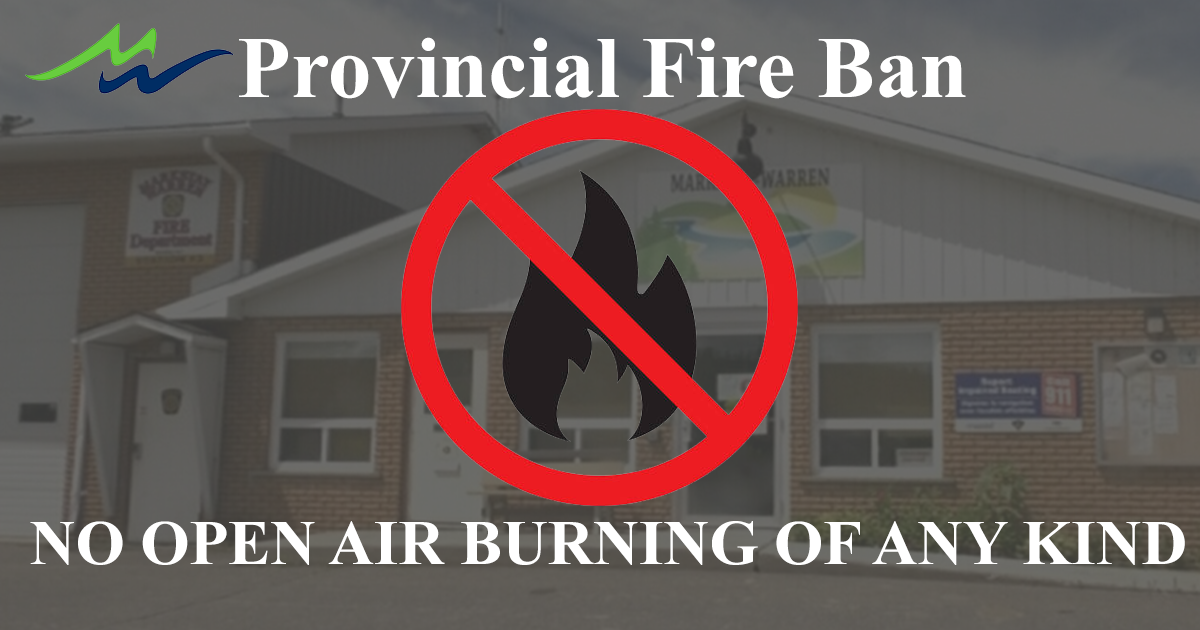 Provincial Fire Ban
June 1, 2023
Provincial Fire Ban is now in effect.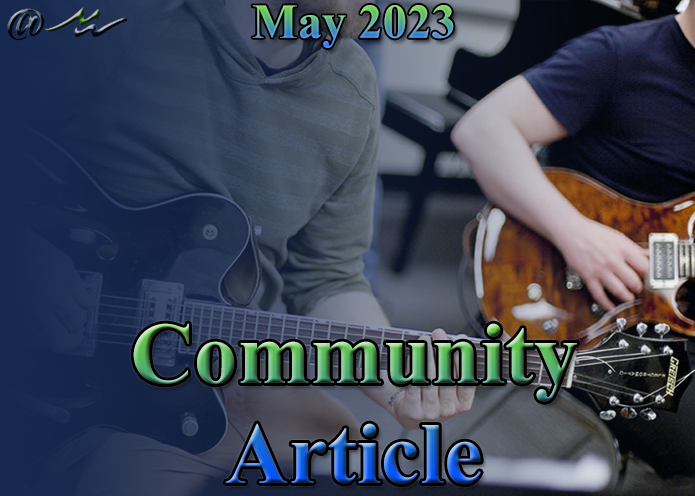 Community Article - May 2023
May 2, 2023
An article about music, and how it ties into our emotions.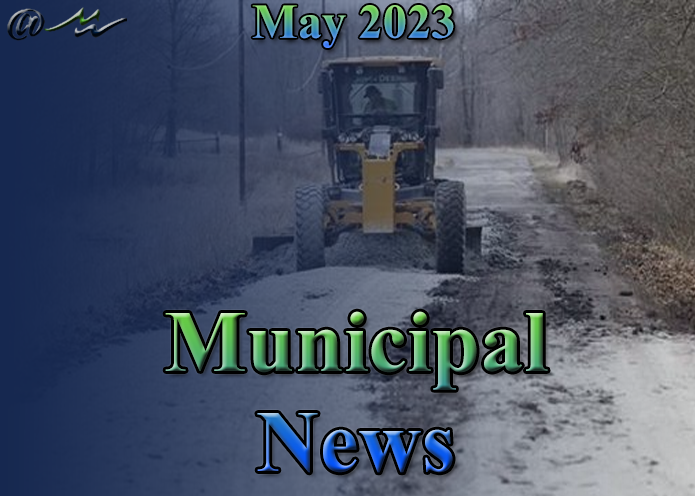 Municipal News - May 2023
May 2, 2023
Public Notice about our roads from our Director of Operations. Wanting to catch the next Regular Council Meeting? You'll find out when the next one is here. Information on the Water Bill 2023.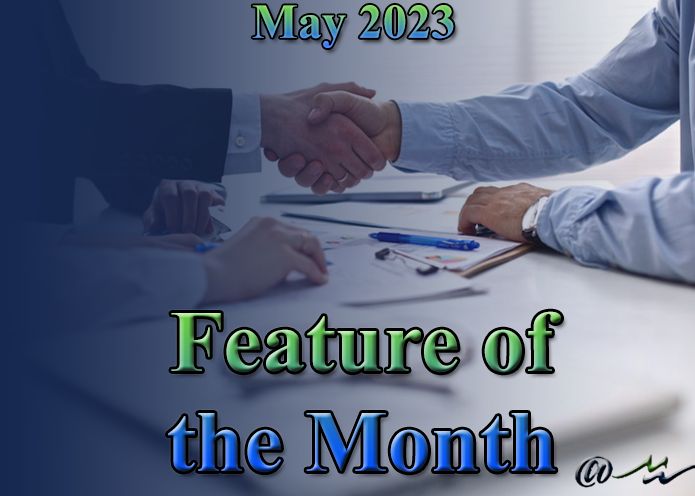 Feature of the Month - May 2023
May 2, 2023
Two new employment opportunities are available, please read the details before applying.