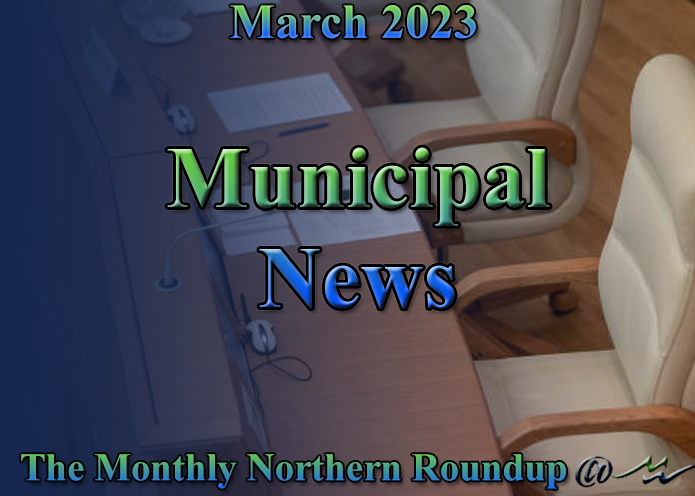 Municipal News - March 2023
March 4, 2023
Two Ways to Recycle in our Community
FoodCycler
The FoodCycler product is one aspect that would impact not only the amount of trash going into our landfill site but it does not put any burden on the municipality for the actual pick up of the trash. You can view more information on the FoodCycler by going to the website, https://foodcycler.com/ or by visiting the Municipal Office between 8:30am to 4:00pm Monday to Friday.

Terracycle
From the Terracycle website..."At TerraCycle, our mission is eliminating the idea of waste. Businesses, government entities, and people like you work with us globally to keep trash out of landfills or from incineration. Through collaboration and innovation, we've developed the world's first solutions in everything from recycling to reuse."
Terracycle offers MANY recycling options for a small fee or even for FREE. One example would be the free recycling program for Coffee Pods.
Here's how to get involved with Terracycle:
Create a

FREE

account with Terracycle on the website, https://www.terracycle.com/en-CA

Collect all of your empty coffee pods as described in the Terracycle website and insert them in

ANY

box you desire.

When the box is full, log onto your Terracycle website to print a

PREPAID

shipping label.

Seal the box and send the

PREPAID

box to Terracycle.
This concept is available for NUMEROUS products and costs the rate payer and the municipality absolutely NOTHING.
There will be an open house for 2 nights on these two new recycling programs that is open for the public to come in and ask questions.
March 8th, 2023 from 6pm to 8pm at the Council Chambers in Markstay.
March 9th, 2023 from 6pm to 8pm at the Warren Community Centre.
Property Taxes and their Due Dates
The remittance due date for the first Interim for the property tax of 2023 is March 30th, 2023.
The remittance due date for the second Interim for the property tax of 2023 is April 27th, 2023.
You can pay these taxes in several ways.
In person at the Municipal Office located at 21 Main Street South, Markstay by cash, cheque, or debit (no credit cards).

By mail to box 79, Markstay, Ontario, P0M 2G0.

By depositing post-dated cheques only in drop box located at the Municipal Office at 21 Main Street South, Markstay.

By Internet/Telephone banking.

By pre-authorized payments.
For more information on your property tax, call the office at 705-853-4536, ext. 201.

Community Garden is Seeking Volunteers!

We are looking for volunteers for the Community Garden for Hagar, Warren, and Awrey. To become part of the project, or for questions please send your full contact information to info@markstay-warren.ca or call the municipal office at 705-853-4536 ext 200.
Regular Council Meeting

The regular Council Meeting will be on Monday, March 20th, 2023, 7:00 pm, at the Municipal Council Chambers in Markstay. You are always welcome to come out and join us. These meetings are open to the public.
Did you know?
The Library has lots of fun in store over the March Break for children of all ages!
*March Break Activities - March 13 - 16th. St. Patrick's crafts Monday(Markstay) & Tuesday(Warren) at 2 p.m. Wednesday(Markstay) & Thursday(Warren) BINGO starts at 2 p.m. please register in advance.
---
Temporary Road Closure
September 28, 2023
Park Drive is having maintenance done, and will be temporarily closed. Please read more for further details. | Park Drive fait de travaux d'entretien et sera temporairement fermé. Veuillez lire pour plus de détails.
Happy 100th Birthday Celebration!
September 28, 2023
Let's all celebrate a member of our community reaching their 100th birthday! | Célébrons tous un membre de notre communauté qui atteint son 100e anniversaire!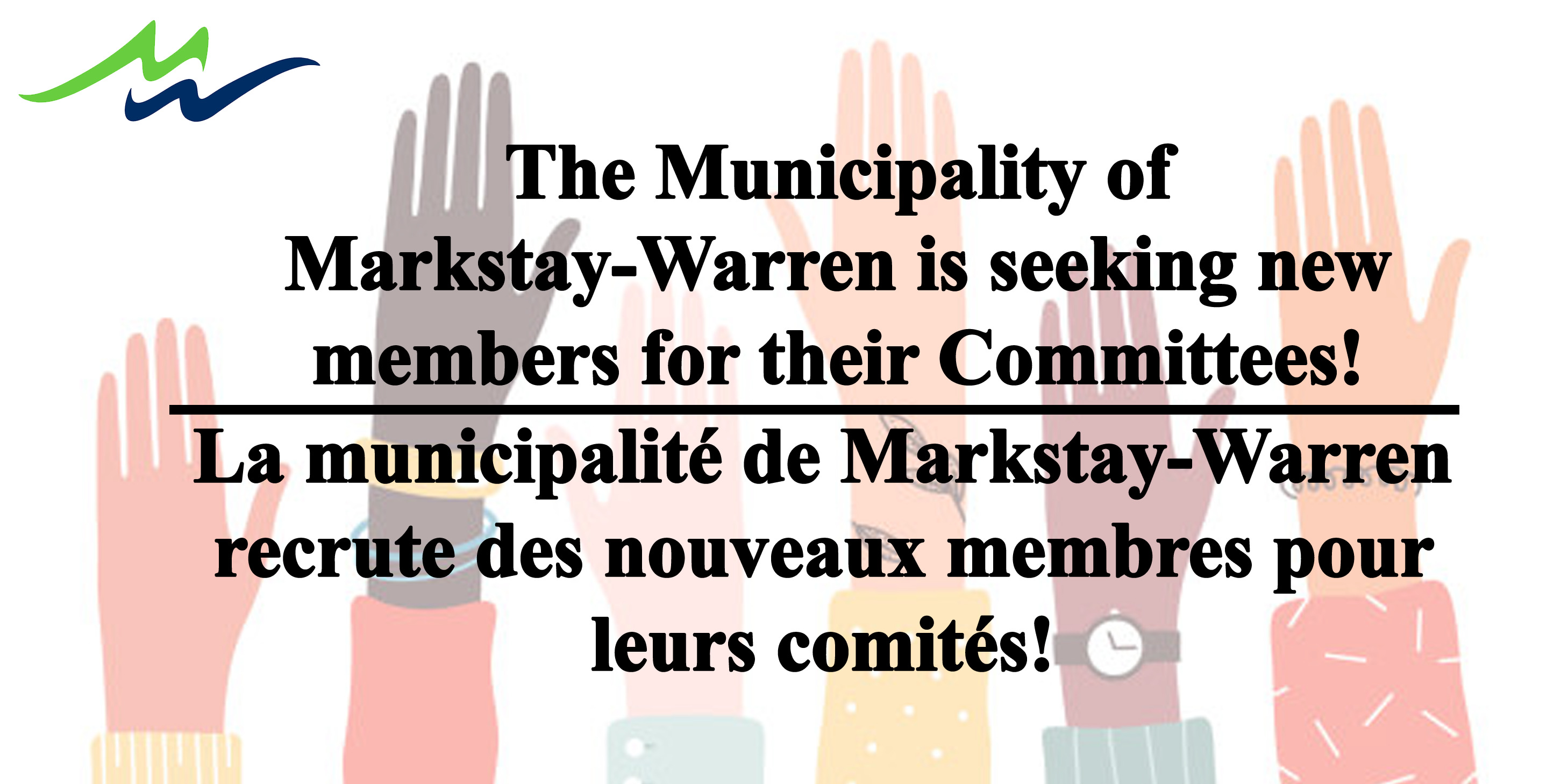 Still seeking new members for committees! UPDATED
September 28, 2023
The Municipality of Markstay-Warren is seeking new members for their Committees. | La municipalité de Markstay-Warren recrute des nouveaux membres pour leurs comités.
Congratulations to our Community!
September 28, 2023
Our Community was recognized by Marc G. Serré from Sudbury. Come watch the video! | Notre communauté a été reconnue par Marc G. Serré de Sudbury. Venez voir la vidéo!